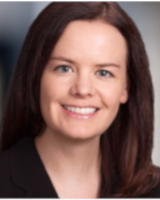 Becky Farr
Firm: Leaffer Law Group
Location: Denver - CO
1873 S. Bellaire St. Suite 1540




Denver, CO 80222




USA
Tel : 303.781.6899

Fax : 303.781.0966

Email : bfarr@leafferlaw.com

Becky Farr is an attorney focusing on taxation, corporate and transactional matters that impact nonprofit organizations. Becky practices in Leaffer Law's Boulder and Denver offices, where she counsels her clients on matters that span the nonprofit life-cycle, including matters typically faced by startups and transitioning organizations. She also monitors developments in the nonprofit space, such as social enterprise, political activity sensitivities, new requirements around executive compensation and UBIT, and changes to donor-advised fund regulation to make sure clients stay informed on emerging topics.
She works regularly with clients in the following areas:
Private foundation issues including self-dealing, jeopardy investments and expenditure responsibility
Corporate governance
Applications for tax-exempt status and related follow-up with the IRS
Political activity, lobbying and advocacy
Nonprofit restructuring, consolidation and merger
Private benefit and inurement issues, including excess benefit transactions and intermediate sanctions
Unrelated business income taxation
Complex operational structures such as nonprofit/for-profit combinations and joint ventures
UPMIFA requirements around investment and endowment spending
Restricted gifts
Becky is the principal author of the Leaffer Law Group Nonprofit Law Blog and a contributing author to A Guide for Colorado Nonprofit Organizations.
She has taught nonprofit law fundamentals at the University of Colorado School of Law and the Colorado State University MBA program, and has presented at the Annual Primer on Advising Nonprofit Organizations and the National Scholarship Providers Association annual conference. She regularly presents on timely topics such as social enterprise, program-related investments and donor-advised funds.
Becky was named one of Law Week Colorado's Up-and-Coming Lawyers in 2012. She serves on the Legal Committee for the Community Foundation Serving Boulder County, and regularly assists the organization with donor fund agreements and questions involving donor-advised funds.
A Colorado native residing in Boulder, Becky enjoys spending time outdoors hiking and taking in the scenery in the company of her son and her dog. She also enjoys sampling the many microbrews that Colorado has to offer.
---
Leaffer Law Group
Nonprofit organizations and charitable foundations are essential to the landscape of our society. They provide vital resources and innovative solutions to the unsolved needs of our communities. They have big ideas for making big impact. Some are just getting started, and are not sure where to start or what questions to ask. Others have been operating for decades, and are looking for new ways to extend their reach or maximize their impact.
For all the good nonprofits do, they also face unique legal and business challenges—and that's where we come in. We provide specialized legal counsel, tailored to their needs. We counsel them on new and creative strategies to help them achieve their missions. And we steer them through their complex regulatory environment, so they can embrace new opportunities and avoid costly missteps.
We are committed to our clients and their causes, sharing in their mission and working together to contribute to their success. This devotion and focus defines and drives us.
We are leaders in our field, continually staying ahead of, or even shaping, what matters most to our clients, and offering innovative solutions for their legal needs.
And we collaborate with our clients, working as essential members of the team, listening and then applying our depth of experience in a very personalized way.
We leverage every bit of our experience and our unwavering commitment to assist our clients in all stages of their business and all aspects of their mission. After all, we firmly believe we accomplish our mission only when we help our clients accomplish theirs.