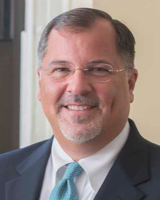 Scott E. Squillace
Firm: Squillace & Associates, P.C.
Location: Boston - MA
20 Park Plaza Suite 1115




Boston, MA 02116




USA
Tel : (617) 716-0300

Fax : (617) 203-9050

Email : scott@squillace-law.com

Scott Squillace is a business and estate planning attorney with over 32 years of experience practicing law. He is the principal and founder of a boutique estate planning firm in Boston's historic Back Bay.
Scott began his practice career as a corporate attorney at Skadden Arps where he assisted in opening its Paris and Moscow offices in the early 1990's. During his time at Skadden he did significant private and public company corporate and securities compliance work as well as international transactional work from the firm's Washington, D.C., New York and Hong Kong offices in addition to Paris and Moscow. In addition to working on public company mergers and acquisitions, Scott assisted the corporate finance group with public debt offerings for a variety of international companies, in the form of ADRs (American Depository Receipts). He became accomplished in 1934 Securities and Exchange Act compliance work and advised a variety of public companies concerning the Act. When stationed overseas in the firm's Paris and Moscow offices, he became adept at assisting U.S. companies establish their presence abroad, including working on a variety of joint ventures in Eastern and Central Europe at the time those markets were transitioning from planned to market economies.
Scott has significant business counseling experience as an in-house corporate attorney, first as General Counsel for Levi Strauss & Co.'s European division based in Brussels and later as the first General Counsel for Grand Circle Travel, a privately held Boston based travel company. He also served as European Counsel for Cabot Corporation in Boston, a NYSE public company. He lived and worked in Europe for nearly 10 years and has travelled for work extensively in Asia, Latin America and Africa. During that time, his practice focused on antitrust and European distribution/competition matters; intellectual property and employment law, as well as general corporate and tax matters.
Scott's current practice focuses on estate and business planning matters including tax and philanthropic planning for high net worth individuals and families. His practice includes asset protection and estate planning needs for international clientele, corporate executives, small business owners, physicians, attorneys and other professionals. He has a particular focus on helping same sex couples and members of the LGBTQ community with their unique planning needs and frequently lectures locally and nationally on this topic. In 2014 he published the first planning guide after the landmark Supreme Court decision on same sex marriage: Whether-to-Wed: A Legal and Tax Guide for Gay and Lesbian Couples.
In addition to his planning practice, which has included sophisticated techniques for high net worth families, he also assists with governance for their complete multigenerational families. He has become a trusted advisor and frequently serves as a fiduciary for his clients. In addition, his practice includes considerable work in the area of probate and other post-mortem settlement work.
Professional Accreditations & Recognitions
Recommended Attorney & Firm – Premier Tax Lawyers (2019-2020)
Independent Trustee Alliance, Master Certified Independent Trustee (2019)
U.S. News & World Report, Best Lawyers in America (2018, 2019)
Lawyers of Distinction, Lawyer of Distinction (2018)
The Wall Street Journal, Best Lawyers in New England (2018)
Corporate Insider, Estate Planning Law Firm of the Year – Massachusetts (2018)
U.S. News – Best Lawyers, Best Law Firms (2018)
Boston Magazine, Five-Star Investment Professional (2017, 2018)
Super Lawyers Magazine, Super Lawyer (2013–2017)
Boston Magazine, Five-Star Wealth Manager (2012–2017)
Accredited Estate Planner – National Association of Estate Planning Councils (2014)
Certified Legacy Advisor and Fellow – Sunbridge Legacy Institute, Florida (2008)
Professional Memberships
Bar Association Activities
Boston Bar Association, Committee Member: Adams Benefit Committee (2017)
Boston Bar Association, Past sub-committee chair: Trusts & Estates section, T&E Fundamentals Committee Co-Chair
Massachusetts Bar Association, member
National Gay and Lesbian Bar Association, member
Massachusetts LGBT Bar Association, member
Other Professional Memberships – Current
American Inn of Court, The Greater Boston Fiduciary Law Section
Independent Trustee Alliance, member
Pride Planners, member
Purposeful Planning Institute, Founding member
Society of Trust and Estate Practitioners (STEP), member
Wealth Counsel, member
Other Professional Memberships – Previous
Member of Board of Directors of The Boston Estate Planning Counsel
National Network of Estate Planning Attorneys, member
Association of Corporate Counsel, past president of Europe and New England chapters
Sunbridge Legacy Institute, Fellow (2007-2014)
Community Involvement
Current
Board of Directors, The Boston Foundation (Chair of Development Committee, Member of Executive Committee)
Co-Chair, Equality Fund (an endowment for the LGBTQ community at The Boston Foundation)
Board of Trustees – Eastern Bank, Member of Board's Trust Committee
Incorporator – Eastern Bank (MA)
Member – French Heritage Society
Member – New England Genealogical Society
Advisory Board – Project Q (Affordable Housing for the Elder LGBTQ Community)
---
Squillace & Associates, P.C.
Squillace & Associates, P.C. is a premiere boutique life, estate, and business planning law firm located in Boston's historic Back Bay. We use best practices in the estate planning field to provide a process to handle all your planning needs during life, disability and at death.
Our practice is intentionally small to allow a certain level of intimacy with our clients and their families. We value the relationship. Our work is as much about documents as it is about the counseling that occurs during the process. We approach all matters with the goal of understanding the clients' true objectives first, before suggesting solutions. We want to help clients insure that their legacy is preserved and protected. We want the result to be clients who are not only satisfied with our work product, but happy with the process and the service we have provided along the way. Ultimately, our goal is to provide our clients with peace of mind that their important affairs are in order.
Finally, we work as a team. Lawyers, paralegals, support team and strategic resource partners are all brought in to help, as appropriate, in achieving excellent results for our clients. We value a work environment that is supportive and respectful of one another and we expect nothing less from and for our clients.