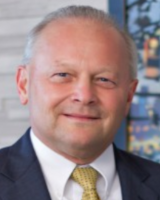 Terry Zabel
Firm: Rhoades McKee
Location: Grand Rapids - MI
55 Campau Avenue NW, Suite 300




Grand Rapids, Michigan 49503




USA
Tel : 616.233.5173

Fax : 616.233.5269

Email : tlzabel@rhoadesmckee.com

What types of legal issues do you help individuals and businesses resolve?
Taxes are difficult, both to calculate and to pay. I assist individuals and businesses to make informed decisions regarding transactions to receive tax benefits and advantages. If an individual or business is audited by a tax authority, I provide representation to insure that the merit of their position is properly advocated to the tax authority and if necessary to the appellate or adjudication levels. When an individual or business is unable to pay taxes which are not in dispute, I use the resources of the firm to reach a resolution.
How have your skills evolved in your career?
I began my legal career representing the Internal Revenue Service. I gained an understanding of tax authorities from that experience which is utilized to advise individuals and businesses on the most efficient and effective approach to avoid tax controversies or to resolve tax controversies that have commenced. The 19 years of experience representing taxpayers has helped me to become creative in achieving positive results.
How do any of your community interests or activities facilitate how you represent your client?
As Chair of the Tax and Regulatory Affairs Committee of the Grand Rapids Chamber of Commerce, I am involved in advocating for tax legislation that will benefit West Michigan business and individuals and challenging legislation and policies that are detrimental. The Committee is made up of leaders from businesses, both regional and local, that drive our economy. Working with those business leaders to reach their goals has helped me become a better advocate for my clients.
---
Rhoades McKee
Since 1960, our commitment to integrity and intentionally crafted values has made us one of West Michigan's most respected law firms. Our culture is unique: not only do our clients benefit from large firm legal services but, at Rhoades McKee, all of our attorneys participate in a collaborative interdisciplinary team, which allows us to identify additional concerns, outline options, and guide clients through potential outcomes, while minimizing future legal entanglements.
Like many West Michigan businesses, our story begins with entrepreneurial spirit. In 1959, founder Dale Rhoades served in the city attorney's office while moonlighting at his part-time law practice. Over time, additional attorneys joined his practice and he left the city attorney's office. In 1986, the law firm experienced significant growth with the addition of another thriving practice, Mohney, Goodrich and Titta. Now, over 50 years since its inception, Rhoades McKee offers over 25 legal practice specialties in two locations and our attorneys continue to meet and exceed our clients' expectations.