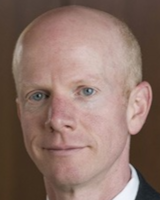 Andrew J.Nolan
Firm: Foulston Siekin
Location: Wichita - KS
1551 N. Waterfront Parkway, Suite 100




Wichita, KS 67206-4466




USA
Tel : 316.291.9542

Fax : 866.346.2030

Email : anolan@foulston.com

Andy Nolan, a business attorney and Foulston Siefkin partner, represents corporations, LLCs, partnerships, developers, investors, and company principals in matters ranging from daily operational issues, tax planning, and real estate transactions to complex corporate restructurings, mergers, and acquisitions. He works primarily with family and closely held businesses, including many from the agribusiness, manufacturing, and health care sectors, often serving as outside general counsel. Andy, who joined Foulston Siefkin in 1999, leads the firm's Taxation Practice Group.
Based in Wichita, Andy is known for delivering sound, reasoned advice, especially when tough decisions must be made. Whether advising on entity formation, negotiating financing arrangements, or conducting due diligence, he approaches his clients' issues as if they were his own. By devoting personal attention to every detail and ensuring each matter is handled in a timely, efficient manner, he earns his clients' respect and their repeated business.
Andy was instrumental in helping orchestrate the $500 million sale of a food processing company in a deal that stands as the largest M&A transaction led by Foulston Siefkin. He also crafted the sale of all the assets of a closely held consumer products company to a private equity fund. Andy's ongoing representation of a Kansas health care company on various corporate matters includes advising on all aspects of its management of the state's largest dialysis program for a group with treatment centers across the country.
Named by Best Lawyers as Wichita "Tax Lawyer of the Year," Andy provides strategic tax planning counsel to many clients. Applying his deep knowledge of federal and state tax codes, he closes complex commercial real estate deals for investors and developers, as well as for purchasers and sellers from other industries. He is skilled in crafting tax-deferred, forward and reverse 1031 like-kind exchanges; reviewing title and survey documentation; and negotiating leasing, lending, and financing arrangements.
Dedicated to giving back to the community, Andy is involved in a number of cultural, educational, and civic endeavors throughout Wichita, including serving as the president of the city's KU Alumni Association chapter. A Kansas native, he enjoys spending time with his wife and two children, cheering on the Jayhawks' basketball team, and running in half-marathons.
---
Foulston Siekin
Established in 1919, Foulston Siefkin LLP is the largest and one of the oldest law firms in Kansas, with a strong tradition for legal excellence. We're proud to have our roots and our future in Kansas and the Midwest. The firm has grown to nearly 90 lawyers with offices in Kansas City, Topeka, and Wichita. Since our firm is based in Kansas, our clients benefit from a lower cost basis that can lead to a more personal, higher-value delivery of legal services from lawyers recognized by national organizations as among the leading lawyers in the United States.
The firm represents a broad range of clients mirroring the Kansas economy, including major agriculture, energy, and natural resource producers and processors, construction general and sub-contractors, corporations, financial institutions, franchisers and franchisees, health care and senior care providers, insurance companies, manufacturers, professional entities, public utilities, service providers and others.