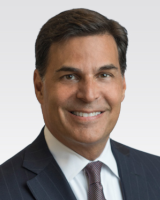 Bradley Sklar
Firm: Sirote & Permutt, PC
Location: Birmingham - AL
2311 Highland Avenue South




Birmingham,AL 35205-2973




USA
Tel : 205-930-5100

Fax : 205-930-5101

Email : brad.sklar@dentons.com

Bradley J. Sklar is a shareholder in Dentons Sirote's Birmingham, Alabama office, where he serves as chair of the Dentons Sirote Tax practice group. Brad focuses on complex tax, entity, and business planning transactions, including mergers and acquisitions; sales of businesses; sale and purchase structuring and funding of large real estate transactions; raising capital; and navigation of state and local tax incentives. He counsels clients in tax and business planning and entity structuring for development and business structuring. He also coordinates the planning of transactions to maximize tax benefits, reduce risk, and comply with tax law at local, state, and federal levels, including incentive and economic development opportunities.
Brad works with business-oriented clients to build, buy, sell, or create innovative and unique business projects and opportunities. Over the years, he has worked on many fascinating and interesting projects. To name a few, Brad helped sell the Orlando Magic NBA franchise right before Shaquille O'Neal joined; worked on the sale of the Birmingham Barons minor league baseball team right before Michael Jordan arrived; and worked on numerous office building, multi-family, and public and private partnership projects. He also worked on tax incentive projects that have allowed many new projects to be built in a number of communities around the city, state, and region, including the Regions Field project that brought the Birmingham Barons to the Parkside district. In addition, Brad was also responsible for bringing limited liability companies to Alabama in 1993 and was privileged to serve on the Alabama Law Institute's Drafting Committee for many years and serve as the principal draftsperson for Alabama's first Limited Liability Company Act. Brad frequently speaks and writes on matters ranging from the tax and business provisions of the CARES Act to opportunity zones and the Alabama Limited Liability Act.
Recognition
Chambers USA: Ranked in Corporate/Commercial in Alabama (Band 2)
The Best Lawyers in America®

Business Organizations (including LLCs and partnerships) (2015–2022)
Corporate Law (2014–2022)
Real Estate Law (2016–2022)
Tax Law (2003–2022)

Best Lawyers®

Business Organizations (including LLCs and Partnerships) "Lawyer of the Year" for Birmingham (2016, 2021)
Tax Law "Lawyer of the Year" in Birmingham (2018, 2020)
Corporate Law "Lawyer of the Year" in Birmingham (2017)

Birmingham's Vistage Member Excellence Leadership Award (2020)
AV Preeminent Martindale-Hubbell® Peer Review Rating™
Martindale-Hubbell® "Birmingham's Legal Leaders" (2013)
Mid-South Super Lawyers (2010–2014)
America's Most Honored Professionals

Top 1% (2015–2016)
Top 5% (2011–2014)

Best of the Bar for Corporate and Securities Law (2005)
Best of US, Real Estate and Tax Law (2006)
Birmingham Business Journal

"Best of the Bar" (2020)
"Who's Who in Commercial Real Estate" (2020, 2021)
"Leading Lawyer of Alabama" (2012)
"Best and Brightest in Birmingham's Legal Field" (2008)
Insights
Editor, Commercial Real Estate Today, Sirote's Commercial Real Estate Blog
Co-author, " FHFA Relief for Multifamily Property Owners Due to COVID-19," Sirote's COVID-19 Blog, March 27, 2020
Co-author, " Coronavirus Legislation: The Business and Tax Provisions of the CARES Act," Sirote's COVID-19 Blog, March 27, 2020
Author, " Opportunity Zones—Summary of Alabama Incentives Modernization Act," Sirote's Corporate & Tax Planning Blog, June 4, 2019
Author, " Opportunity Zones – Second Batch of Proposed Regulations Released," Sirote's Commercial Real Estate Blog, April 19, 2019
Author, " Sirote Continues to Educate in Preparing Clients for the Economic Impact of Opportunity Zone Tax Incentives," Sirote's Corporate & Tax Planning Blog, November 13, 2018
Author, " Looking to Reduce your 2018 Tax Bill… You Might Want to Look at Opportunity Zone Planning," Sirote's Corporate & Tax Planning Blog, October 24, 2018
Author, " U.S. Treasury Issues Opportunity Zone Tax Incentive Planning Regulations," Sirote's Corporate & Tax Planning Blog, October 23, 2018
Author, " Economic Development through 'Opportunity Zones,'" Sirote's Commercial Real Estate Blog, February 15, 2018
Author, " Economic Development Through "Opportunity Zones," Sirote's Corporate & Tax Planning Blog, February 15, 2018
Author, " House and Senate Agree on Terms of Tax Cuts and Jobs Act of 2017," Sirote's Corporate & Tax Planning Blog, December 18, 2017
Activities and Affiliations
Alabama Law Foundation
Alabama State Bar

Former Chair, Tax Section (1997–1998)

American Institute on Federal Taxation (2013)
Birmingham Bar Association

Executive Board Member, Business Law Section

Birmingham Tax Forum
Federal Tax Clinic

Former President (2009)
Former Board Member
Former Chair

The Group, Inc.
REV Birmingham

Commercial District Revitalization Incentives Task Force
Community Board Member

Progress Bank
Business Council of Alabama (2020)

Tax and Fiscal Policy Committee

Mountain Brook Board of Education

Board Member (2010–present)
Former President

Leadership Alabama (2009–2010)
Leadership Birmingham (2000–2001)
Chamber Leadership Development
Project Corporate Leadership
The University of Alabama Law School Foundation

Board of Directors (2016–2020)

American Cancer Society

Board Member
Corporate Chair, Hope Gala (2009)

Birmingham Bar Foundation
Birmingham Business Alliance

Chair, Finance and Taxation Committee
Trustee

Monday Morning Quarterback Club
Birmingham Jewish Federation

Former Board Member
Joanie Plous Bayer Young Leadership Award (2002)

Rabbi Grafman Endowment Fund
Temple Emanu-El

Former Member, Board of Directors
Building Committee
Executive Committee
Co-chair, Financial Resources Development Committee (FRDC)

Board Member, Dentons Sirote (formerly Sirote & Permutt, PC)
Presentations
Panelist, "Biden's First 100 Days," BMSS Webinar, May 18, 2021
Speaker, "Qualified Opportunity Zones: An Overview," The Georgia Society of CPAs, July 26, 2019
Speaker, "Capitalizing on Tax Reform," CCIM Institute's Webinar, April 5, 2018
Speaker, "Tax Reform," Vistage, January 18, 2018
Speaker, "Use of State Law LLC's as S Corporations," Alabama Society of CPAs, September 2013
Prior and Present Employment
Dentons Sirote (formerly Sirote & Permutt, PC) 1988–present
Adjunct Professor, Birmingham School of Law, Taxation, 1990–1997
---
Dentons
In the complex world of tax, our role is simple: to serve as an extension of your business. At Dentons, our value comes from seeing your business as you do and collaborating with you every step of the way. Together, we will develop and implement a plan based on your needs and aspirations—one that proactively identifies creative, integrated commercial tax-saving solutions.
When you engage Dentons for tax services, you're getting an interdisciplinary team that understands how tax law meshes with other areas of the law—corporate, real estate and litigation, to name a few. You are drawing from a focused team with years of experience in your industry. It's a cross-border, multi-jurisdictional group that seamlessly mixes local knowledge with the right resources in order for your business to stay nimble and robust.
Whether excise or extra-jurisdictional, taxes will always impact your business. As regulations and issues shift and evolve, Dentons will work with you to ensure you stay ahead—with your goals as our guide.
Dentons' comprehensive tax services include experience in worldwide jurisdictions, as well as in matters relating to individuals and private companies, multinational companies, listed companies, blue-chips, partnerships and other transparent entities, tax-advantaged investing and more.