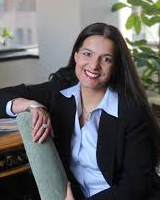 Chaya Kundra
Firm: Kundra & Associates PC.
Location: Rockville - MD
110 North Washington Street Suite 406




Rockville, MD 20850




USA
Tel : 301-424-7585

Fax : 301-424-7047

Email : c.kunda@kundrataxlaw.com

Ms. Kundra is a tax litigator and advisor who works aggressively to solve current problems and prevent future controversies. The firm's clients include businesses, non-profit entities, entrepreneurs and individuals seeking legal tax and financial counseling. Ms. Kundra's practice is nationwide. Through the span of Ms. Kundra's legal career, she has consistently focused on tax litigation, controversy, business, and planning issues.
Ms. Kundra has successfully litigated and settled numerous civil and criminal tax cases, structured various business entities and resolved a number of legal tax audits, controversy matters and divorce tax issues.
While working at the Office of Financial Enforcement, U.S. Department of Treasury, Ms. Kundra focused on money laundering issues and violations of the Bank Secrecy Act. This was in addition to handling administrative law appeals at the U.S. Equal Employment Opportunity Commission. Ms. Kundra also performed financial analysis for the Bakery & Confectionery Union and International Pension Fund.
Ms. Chaya Kundra received a Juris Doctor from the Washington College of Law at the American University where her course work emphasized tax, accounting and finance issues. She majored in Finance at Loyola College and was selected as a member of the Green & Grey Society, which honors the top twelve graduating seniors who embody leadership, scholarship and community service.
Ms. Kundra has served as Co-Chair of Day One of the Maryland Advanced Tax Institute, Fellow of the American Bar and Montgomery County Bar Associations, American University Dean's Advisory Committee, former Chair of the Employment Tax Section for the American Bar Association, and the Montgomery County and Maryland Tax Sections.
Among Ms. Kundra's professional honors are being included in Fortune Magazine's Women Leaders In The Law for 2013, 2014 and 2015, U.S. News & World Report's Best Lawyers for 2014, 2015 and 2016, Best Lawyers in Washington, DC and Baltimore, Best Lawyers in America, Super Lawyers, and receiving a Superb Rating by AVVO. Prior to (this), Ms. Kundra has been named NAPEW woman of the year, Super Lawyers 2009, Circle of Excellence 2011, awarded National Association of Entrepreneurship 2011 and Women's Leader in the Law 2012.
Ms. Kundra approaches each day with strength, passion and enthusiasm. She strives to maintain the highest standards of excellence, and consistently puts the interests and needs of her clients at the forefront.
---
Kundra & Associates PC.
What is before you and what are the possible consequences of the outcome? These are two important, potentially life-altering questions that deserve answers.
The tax attorneys of Kundra & Associates — a premier East Coast law firm for domestic and international tax problems — pursue legal tax relief for businesses and individual taxpayers in Maryland, Virginia, Washington, D.C., and across the nation, as well as international entities and persons subject to U.S. taxes.