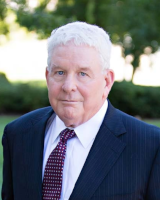 David R. Cassidy
Firm: Breazeale, Sachse & Wilson, L.L.P.
Location: Baton Rouge - LA
One American Place 301 Main Street, Suite 2300




Baton Rouge, LA 70801




USA
Tel : 225.381.8018

Fax : 225.387.5397

Email : david.cassidy@bswllp.com

David Cassidy serves as of counsel in the firm's Baton Rouge office.
He is a Board Certified Specialist in Tax Law. His primary area of practice is state and local taxes. He represents taxpayers before local Boards of Review and the Louisiana Tax Commission in ad valorem cases and the Board of Tax Appeals, federal and state district courts, and both Louisiana's appellate courts and Supreme Court in all areas of state and local taxes including income, franchise, sales and use, and severance taxes.
Mr. Cassidy became a member of the American Bar Association's Section of Taxation State and Local Tax Committee in 1989. In 1999, he was named Vice Chair of the Committee and, in 2001, he became Chair and served in that capacity until 2003.
Prior to becoming Chair, he led various subcommittees and participated in numerous presentations on state and local tax issues both as a panelist and moderator. He also contributed articles to The Tax Lawyer, State and Local Tax Edition, a joint publication of the American Bar Association's Section of Taxation and Georgetown University Law Center. In 2015, he was asked to contribute an article to the Tax Lawyer's Special State and Local Committee Issue commemorating the Tax Section's 75th Anniversary reflecting on the changes he had seen during his years of practice in the area of state and local taxation.
Mr. Cassidy was one of the original authors for the ABA's Sales and Use Tax Desk Book, first published in 1987, and the ABA's Property Tax Desk Book which was first published in 1995. He continues to serve as author or co-author of the Louisiana chapters for those publications.
Mr. Cassidy has given talks on various state and local tax topics to tax organizations such as the Tulane Tax Institute, The Institute for Professionals in Taxation (IPT), ABA/IPT Joint Tax Seminars, the Baton Rouge Chapter of CPAs, the Louisiana Department of Revenue, and the Louisiana Association of Tax Administrators. He has also spoken to trade associations such as Associated Builders and Contractors.
In recognition of his work, he was selected by his peers for inclusion in The Best Lawyers in America 2013, 2014, 2015, 2016, 2017, 2018, and 2019. In 2017, he was named Baton Rouge's "Lawyer of the Year" for tax law by the organization.
Since 2007, he has been designated by "Chambers USA" as one of Louisiana's leading lawyers for business in the area of Corporate/M&A and listed in "Louisiana Super Lawyers" in the area of tax.
In addition, Mr. Cassidy has been given an AV Peer Review Rating in Martindale-Hubbell which is the highest rating standard given by that organization. The rating signifies that a large number of Mr. Cassidy's peers rank him at the highest level of professional excellence for his legal knowledge, communication skills and ethical standards.
His past and present clients include Shell, Cajun Constructors, Shaw, Louisiana's Automobile Dealers Association, Flintco, Union Tank Car Company, the Louisiana Forestry Association, International Paper, the Railway Progress Institute, Global Industries, Maxim Crane, Sasol, LUBA Workers' Comp, SiriusXM, Star Enterprise, T-Mobile, FMOL Health System, Inc., Associated Builders and Contractors (Pelican Chapter), Woman's Hospital, Window World of Baton Rouge, the City of Baton Rouge, and the Louisiana Key Academy.
---
Breazeale, Sachse & Wilson, L.L.P.
Established in 1928 in Baton Rouge, Breazeale, Sachse & Wilson, L.L.P. ("BSW") is one of the oldest law firms in the state of Louisiana. We take great pride in our long history of client service. With more than 70 attorneys, the firm is among the largest firms in the state and one of the larger law firms in the South. BSW's clients range from individuals and start-up companies, to Fortune 500 corporations, governmental entities and not-for-profit institutions.
Further, one of the hallmarks of the firm is its devotion to providing the highest quality of legal services to our clients in a manner consistent with their objectives and cost concerns and in a personalized environment that facilitates the mutual trust and respect necessary for a successful attorney-client relationship. The firm continually achieves this objective by implementing an integrated team approach. This team approach enables clients to call upon the guidance of any and all of our attorneys whose experience in various legal and business matters spans many disciplines. In this manner, we are able to provide our clients with specific and in-depth advice that they require in order to achieve their goals.