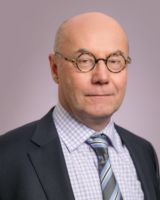 H. Vaughn Ramsey
Firm: Tuggle Duggins
Location: Greensboro - NC
100 North Greene St. Suite 600




Greensboro, NC 27401




USA
Tel : 336.271.5234

Fax : 336.274.6590

Email : vramsey@tuggleduggins.com

Vaughn Ramsey provides his clients with over thirty years of legal experience in business representation with a focus on taxation. This experience allows Vaughn to provide insights into matters that not every lawyer would recognize. He advises clients on taxable and non-taxable business sales and acquisitions, entity formation, private placements, joint ventures, general contract matters, and other related transactions, as well as taxpayer disputes with the Internal Revenue Service and the North Carolina Department of Revenue. While he takes his work very seriously, Vaughn does like to have fun on the job when possible.
In addition to his legal knowledge and dependable work, Vaughn's clients appreciate his responsiveness, willingness to lend a hand professionally and personally, his dry sense-of-humor, and his willingness to refer a matter elsewhere if it falls outside the firm's expertise.
Vaughn is a frequent speaker on state and federal tax issues, and has been recognized by Best Lawyers in America, NC SuperLawyers, NC Legal Elite, has been awarded the NC CPA Association 5.0 Speaker Award, and is a former member of the board of the J. Nelson Young UNC Tax Institute.
During law school, Vaughn was inducted in Order of the Coif and also served on the North Carolina Law Review. Prior to joining Tuggle Duggins in 1985, Vaughn was an associate with Chadbourne & Parke in New York City.
---
Tuggle Duggins
A lot has changed since we first opened our doors in 1974, but our commitment to businesses and business owners remains our central focus. We are fortunate that our clients ask for help with their business interests locally, around our state, across the U.S. as well as internationally.
Our clients are at the heart of what we do each and every day. We offer a collaborative approach and a business mindset to help solve each issue, and view ourselves as not only legal counsel but also a business partner.
Our services range from corporate and finance, litigation and dispute resolution, employment, intellectual property to real estate, tax, estate planning and wealth management. Additionally, we offer a full range of services to clients through our work as Fractional General Counsel.