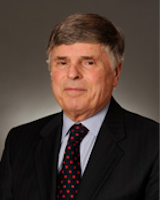 Harris Markhoff
Firm: Danziger & Markhoff LLP
Location: White Plains - NY
1133 Westchester Avenue, Suite N208




White Plains, NY 10604




USA
Tel : 914.948.1556

Fax : 914-948-1706

Email : hmarkhoff@dmlawyers.com

Harris Markhoff, a founder of the firm, has a broad business and tax practice which includes counseling individuals, professional corporations, closely held and family-owned businesses on a wide range of corporate, tax and estate planning issues. He negotiates and structures joint ventures, partnerships, buy-sell agreements, stockholder arrangements, the acquisition and sale of businesses, and other business transactions and relationships. He also counsels clients in the context of dispute resolution and dissolution of business relationships.
A leading tax lawyer, Harris counsels clients on strategies to minimize income and estate taxes. He is particularly experienced in pension and profit-sharing law and the tax issues affecting the owners of closely held businesses and the succession of those businesses.
Harris is also involved in all aspects of estate planning and administration. He works with clients to implement the disposition of their assets so as to minimize estate taxes and maximize intergenerational planning. Harris devises estate plans which will result in the orderly transition of family wealth from one generation to the next. Harris works with many families and in particular grandparents and parents who are very concerned about the ultimate disposition of their assets to grandchildren and children. He is involved in gift programs and the preparation of Wills and Trusts, with particular emphasis on succession planning for close corporations. Harris is also involved in the supervision of estate administration and in particular the preparation and audit of federal and state estate tax returns.
Honors and Awards
2019 Premier Tax Lawyers – Exclusive Featured Attorney for While Plains NY
2007-2008 New York Super Lawyers – Tax category
2013 Best Lawyers in America – Lawyer of the Year – Trusts and Estates
1989-2018 Best Lawyers in America – Trusts and Estates
1989-1990 & 2006-2018 Best Lawyers in America – Corporate Law
Westchester Magazine list of top lawyers
---
Danziger & Markhoff LLP
Whenever you want to explore ways to take advantage of tax savings strategies, learn about creative business succession approaches, or protect your assets from creditors, we can help. Combining attorneys and actuaries under one roof gives us the opportunity to provide creative and unique solutions to meet our clients' needs.
We design, prepare and administer retirement plans for business owners. Our retirement plans save our clients' money by reducing their taxes and expenses, as well as meet their business goals. Pension attorneys, actuaries and retirement plan administrators working together enable us to achieve the best results for our clients.
We are proud of the creative business succession alternatives we offer our clients. We help you sort through alternatives about succession strategy. We answer your questions about how to incentivize and retain employees, and provide tax-favorable ownership transitions whether to family, employees or third parties.
We believe in a tax-oriented approach to estate planning and the administration of estates and trusts. Our locally and nationally recognized attorneys draw on their years of experience to help our clients minimize their taxes while protecting assets and attaining their family's personal objectives.