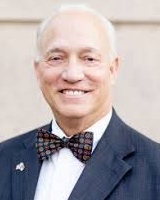 John A. Cocklereece, Jr.
Firm: Bell, Davis & Pitt
Location: Winston-Salem - NC
100 N Cherry St, Suite 600




Winston-Salem, NC 27101




USA
Tel : 336.714.4123

Fax : N/A

Email : jcocklereece@belldavispitt.com

John Cocklereece has more than 40 years of experience practicing law. His practice is focused on property tax appeals, general business law, tax controversy law, and estate planning and administration law.
John previously served as the Chair of the North Carolina Property Tax Commission, an appointed board that hears appeals following the county Board of Equalization and Review level. This experience provides him with intricate knowledge of the property tax appeals process at the state level.
John's tax and property tax clients include major corporations, manufacturing companies, distributors, healthcare companies, retailers and apartment owners. John is a co-author of the NC Property Tax Law Monitor blog and the annual Guide to NC Commercial Property Tax Revaluation.
His areas of focus include:
Real and business personal property tax appeals with county tax offices, the North Carolina Property Tax Commission, the North Carolina Court of Appeals and the Supreme Court of North Carolina;
General business law, including business formation and dissolution; the sale, purchase, and financing of businesses; development, review of and negotiation of various business agreements;
Tax planning and controversy matters, including handling return and payment disputes with the Internal Revenue Service and North Carolina Department of Revenue;
Planning and administration of wills, estates and trusts.
A leader in his profession and the community, John is a member of the board of trustees of the Forsyth Tech Community College and the Forsyth Techn Community College Foundation. He previously served on the boards of the Winston-Salem Industries for the Blind, the Winston-Salem Public Assembly Facilities Commission, the North Carolina Eye Bank, and the Forsyth County Industrial Development and Pollution Control Financing Authority.
John has a B.A. and J.D. from Washington & Lee University, where he played football and was named an Academic All-American.
---
Bell, Davis & Pitt
Bell Davis & Pitt is a North Carolina law firm recognized for its highly regarded attorneys. The firm's 35 attorneys consider each client as a true partner, crafting strategic solutions to meet a client's legal challenges.
The firm has offices in Winston-Salem and Charlotte and offers a broad range of practice areas — designed to serve both businesses and professionals. Many of the firm's clients find that all of their legal needs can be served at the firm, creating a seamless and integrated approach.
Tax-related practice areas at the firm include:
Bell, Davis & Pitt attorneys are dedicated to providing the highest quality work as cost efficiently as possible. The firm takes pride in its longstanding client relationships, including some that even date back to the firm's founding.