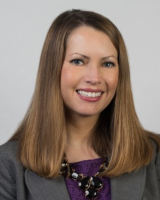 Laura E. Krebs Al-Shathir
Firm: Capes, Sokol, Goodman & Sarachan, P.C.
Location: St. Louis - MO
7701 Forsyth Boulevard, Twelfth Floor




St. Louis, Missouri 63105-1818




USA
Tel : 314.505.5424

Fax : 314.505.5425

Email : alshathir@capessokol.com

Laura Al-Shathir counsels clients ranging from individuals and small business owners to multi-national corporations, limited liability companies, S corporations and non-profits. She provides tax and business planning advice in various corporate transactions, including selection and formation of business entities, acquisitions, expansions, employee benefits and executive compensation, redemptions of ownership interests, and dissolutions and terminations of businesses. She also serves as special tax counsel to corporate tax clients in IRS exams.
Laura has an extensive background in international tax and frequently advises and represents clients in resolving issues relating to tax and reporting non-compliance with respect to foreign source income and assets, such as by making an offshore voluntary disclosure to the IRS.
Furthermore, generally in her tax controversy practice, Laura represents clients' interests in resolving disputes with the Internal Revenue Service and the Missouri Department of Revenue, whether guiding them through an income tax audit or representing them in an IRS appeal or tax litigation.
She also negotiates and implements mergers and acquisitions, real estate deals, including Internal Revenue Code Section 1031 transactions, and executive compensation plans, providing a particular emphasis on relevant tax considerations and requirements, such as Internal Revenue Code Section 409A.
Laura has experience assisting companies with understanding and planning for changes in health care legislation and advising employers with respect to various employee benefit and executive compensation issues.
Laura is a frequent speaker at national American Bar Association Tax Section conferences, speaking on the topic of S Corporations, and she is a co-columnist in the Tax Controversy Corner of the Journal of Passthrough Entities.
---
Capes, Sokol, Goodman & Sarachan, P.C.
At Capes Sokol, we strive to find the best solutions to our clients' legal problems, and to turn even complex challenges into opportunities.
That's why each member of our St. Louis-based team is committed to looking at every issue from multiple angles. We bring teamwork and collaboration across disciplines. We take the time to listen and understand our clients' industries, problems and challenges. And then we apply deep legal knowledge, experience and creativity all leading to strategies and execution that just make sense.