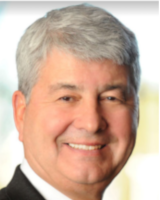 Thomas J. Kenny
Firm: Varnum LLP.
Location: Novi - MI
39500 High Pointe Boulevard Suite 350




Novi, MI 48375




USA
Tel : 248-567-7409

Fax : 248-567-7423

Email : tjkenny@varnumlaw.com

Tom is a partner on the firm's Tax Practice Team. His practice includes civil and criminal tax litigation. Previously employed by the Department of Attorney General, Tom acted as legal counsel to the Department of Treasury in litigation matters before the Michigan Tax Tribunal, Court of Claims, Court of Appeals and Supreme Court. Prior to his employment with the Michigan Attorney General, he was an assistant prosecuting attorney in Detroit and handled criminal litigation and appeals.
Tom's tax practice focuses on the representation of Fortune 1000 companies in State and Local Tax (SALT) litigation, which includes sales, use, corporate income, motor fuel, tobacco, real and personal property and Michigan Business Tax matters. He has represented clients before administrative agencies and courts in Michigan and around the country. The multistate representation includes tax cases in Indiana, New York, Ohio, Pennsylvania and Tennessee.
---
Varnum LLP.
For more than 130 years, clients have trusted Varnum for excellence, innovation and superior results in the delivery of legal services. Over the years, as the needs of our clients have become more complex, we have kept pace by constantly expanding our areas of practice, our understanding of evolving trends and issues, and our ability to harness technology effectively.
Today, Varnum is firmly established as one of Michigan's premier law firms. A full-service provider of legal counsel, Varnum has a strong core of experience.
Varnum clients represent a diverse range of business and legal interests: manufacturers, financial institutions, health care providers, professional groups, municipalities, colleges and universities, school districts, developers, publishers, retailers, governmental units, transportation, trade associations and charitable organizations.
Our team approach to client service provides an outstanding model for maintaining the close personal relationship that traditionally exists between lawyer and client, while ensuring the client also has available to them the full resources of the firm. One of our lawyers will assume primary responsibility for the client relationship, and he or she will be assisted as needed by other lawyers within the firm who can offer their experience on a particular matter.